EuroScreen MidTerm Conference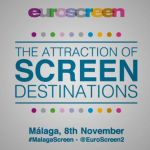 EuroScreen is a project designed to capitalise on the major economic and cultural opportunities presented through screen tourism. This project is co-financed by the European Regional Development Fund and made possible by the INTERREG IVC programme. It runs from 2012 to 2014.
The EuroScren partnership consists of a mix of nine organisations across eight different EU regions, including Regional Development Agencies, Film Commissions and a higher education institution: Apulia Film Commission (Italy), Bucharest Ilfov Regional Development Agency (Romania), Film London (UK), Lead Partner, Fondazzjoni Temi Zammit (Malta), Rzeszow Regional Development Agency (Poland), Municipality of Ystad (Sweden), Maribor Development Agency (Slovenia), PRO MALAGA (Spain), Lund University Department of Service Management (Sweden).
EuroScreen is assisted by European financing and project experts peacefulfish and Otravista.
EuroScreen conference: The Attraction of Screen Destinations
The midterm conference will take place in Malaga, Spain, on November 8th. The programme includes presentations and panel discussions with experts from London and across Europe on how to capitalize opportunities to attract tourists through your locations being used for filming. The full programmed can be download here.