AAW – Puglia Experience 2013 – Extension notice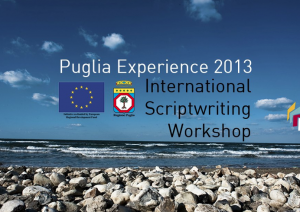 There' s time until 8th May 2013, h 23.59, to submit the application pack for the 4th edition of Puglia Experience, the travelling screenwriter's workshop for 16 professional Tv and film writers from all over the world, promoted by Apulia Region and financed by European Regional Development Fund (ERDF of Apulia 2007 – 2013, Priority Axis IV, Action 4.3.1, Letter C).
James V. Hart, Claire Dobbin, Chris Vogler and David Magee will  be mentoring the international itinerant workshop that will take place in Apulia region for 3 weeks (June 17- July 6). At the end of the workshop the participants will introduce the stories they have developed during the workshop at the pitching session, with 50 international producers.
The fourth edition of "AAW Puglia Experience" is dedicated to international professional scriptwriters from all over the world  and aims to attract  the best professionals of the audio-visual storytelling on the Apulia area, as a source of inspiration in creating film and television stories, through the discovery of places, landscapes and people of the region that will stimulate the creativity during 3 weeks of work throughout the provinces of the Apulia region.
Please note that it is possible to ask for further information until 7th May to the following contacts: Mail: pugliaexperience@apuliafilmcommission.it . Telephone: +39 080 9752900.