Apulia Film Commission introduces Apulia International Film Fund/ November 15th TBS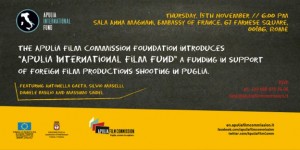 The Apulia Film Commission Foundation will be in Rome to present its new international fund in support of foreign film productions, the "Apulia International Film Film", direct financial support in the form of a free grant to cover the costs of production for European and non-European audiovisual, film and TV production companies presenting projects for full-length fiction films, TV films and TV series.
The New Fund will be introduced on 15 Novembre  from 6.oo  pm at Sala Anna Magnani , Embassy of France, 67 Farnese Square, Rome.
Apulia International Film Fund has financed  two extraordinary productions shot  in Puglia. "Marina", directed by Academy Award nominated director Stijn Coninx, produced by Eyeworks Film & TV Drama and co-produced by the brothers Luc and Jean-Pierre Dardenne and the Orisia Film by Cristiano Bortone, with an exceptional cast including Louis Lo Cascio and Donatella Finocchiaro.
The second production financing in 2012 is "Third Person" of the Oscar-winning director Paul Haggis. Produced by Corsan Film co-production with the Italian Cinecitta Studio, the film uses a cast of extraordinary talentst (Liam Neeson, Olivia Wilde, Mila Kunis, James Franco, Adrien Brody, Kim Basinger, Maria Bello) and it has been shot in Taranto.