"Third Person" World to Premiere at Toronto International Film Festival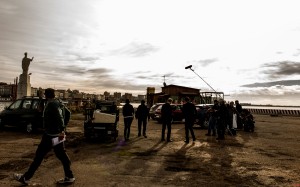 "Third Person" directed by Oscar Award Winner, Paul Haggis gets World Premiere at Toronto International Film Festival.
"Third Person"  produced by "Corsan Film" with the financial support of the Apulia Film Commission, uses a cast of extraordinary talents , these actors includes Liam Neeson (Taken), Olivia Wilde (Alpha Dog), Mila Kunis (Black Swan), James Franco (Spiderman), Adrien Brody (The Pianist) and Kim Basinger (9 ½ weeks). Among these great talents, are several up and coming italian stars such as Riccardo Scamarcio and Vinicio Marchioni.
The film details three stories about the beginnings and the ends of the path of love. The film is set in three fascinating metropilitan cities: New York, Paris and Rome. Taranto's contribution to the film comes in the form of its beautiful old city, with several scenes taking place in the narrow alleys and at the port.
http://blogs.indiewire.com/theplaylist/tiff-first-looks-liam-neeson-olivia-wilde-in-third-person-colin-firth-in-railway-man-joel-edgerton-in-felony-20130723